Our Mission
Our founder, Peter Young, and his wife Rose believed in the importance of generosity towards others and their community. With gratitude as our fundamental motivation, the Peter Young Foundation, the Peterson Group Foundation and the Peterson team contribute to the well-being of our diverse community—for today, and the future.
Community Initiatives
We are committed to understanding the needs of our community, to raising awareness for important issues, and to supporting initiatives that make a meaningful difference. We encourage our team members to volunteer in their community, and support them with paid time off to do so. They also have the opportunity to give back to organizations that they have a personal connection to through our employee-directed giving program, where we make a financial donation on their behalf.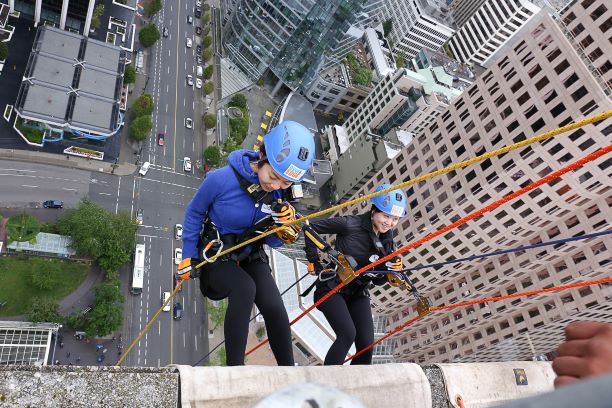 Make-A-Wish, Rope for Hope
On June 27, Janice, one of our Carmana team members, challenged her fear of heights by rappelling down the Hyatt Regency Vancouver in support of Make-A-Wish® Rope for Hope.
Peterson was happy to support Janice through our Employee Directed Giving Program in her fundraising efforts to help grant the wishes of children living with critical illness. Rope for Hope calls on participants to raise pledges in exchange for a once-in-a-lifetime experience to rappel down the edge of a high-profile building. Janice was inspired to do Rope For Hope having seen the different outcomes of friends' children who had all aspects of support, compared to those that did not, while fighting against critical illnesses.  Janice far surpassed her personal fundraising goal of $3,000 by raising $4,163!  Way to go Janice for all of your efforts in support of Make-A-Wish and the good work they do creating life-changing wishes for children with critical illnesses.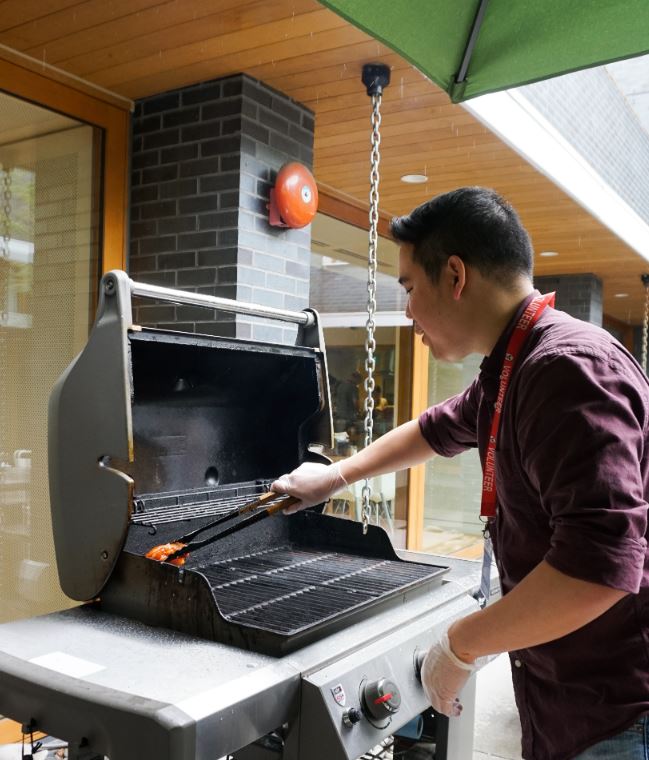 Ronald McDonald House BC and Yukon, Family Meal Program
For over thirty years, Ronald McDonald House BC and Yukon (RMH BC) has been providing accommodation for seriously ill children and their families when they must travel to Vancouver for their child's major treatment.
Through RMH BC's Family Meal Program, our group prepared and shared a homemade meal with the families who call RMH BC home right now. Thank you the RMH BC staff and volunteers for the great work you do keeping families together in a home away from home, and to the families at RMH BC for welcoming us into the house for a truly memorable evening.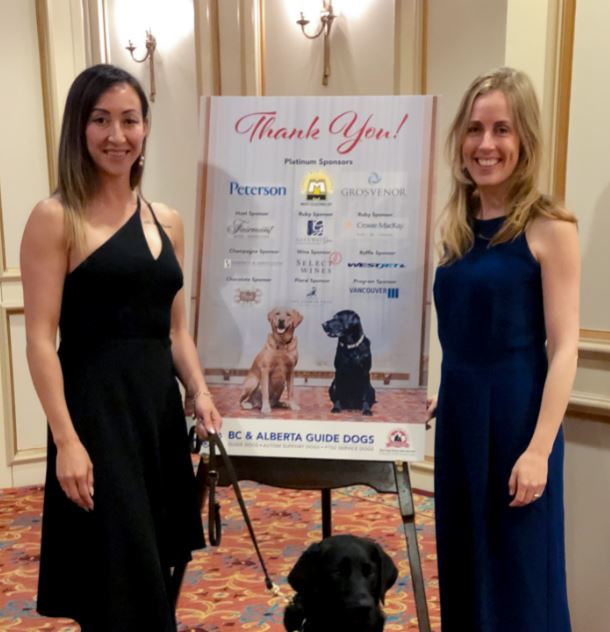 BC & Alberta Guide Dogs, Ties & Tails Gala
BC & Alberta Guide Dogs breeds, raises and professionally trains Guide Dogs for individuals who are blind/visually-impaired, and Autism Support Dogs for children with moderate to severe autism aged 3-10 and their families.
.  It takes two years and upwards of $35,000 to produce one certified dog, provided free of charge to the recipient. On Saturday, May 11, Peterson was a proud sponsor of BC & Alberta Guide Dogs Ties & Tails Gala.  At the event, three clients shared their incredible stories of how their Service Dogs have impacted their lives.  Thank you to the team at BC & Alberta Guide Dogs for an inspiring evening celebrating the great work you do in meeting the growing demand for professionally trained Guide Dogs, Autism Support Dogs, and PTSD Service Dogs for citizens in British Columbia and Alberta.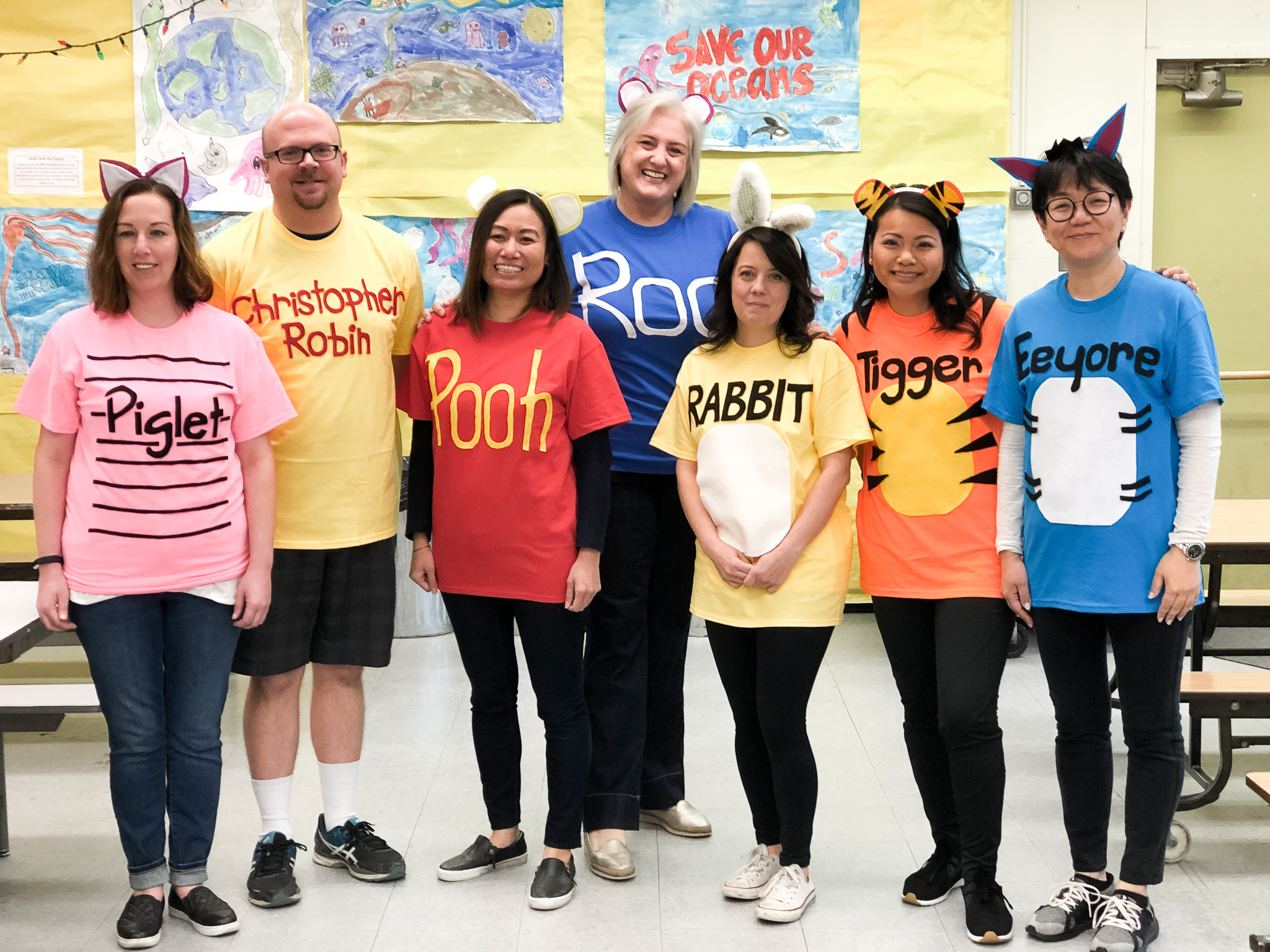 Celebrating Literacy with Christopher Robin and Friends!
We joined the teachers, students and families at Queen Alexandra School to celebrate the joy of reading for their Literacy Day pancake breakfast.
With students and teachers dressed up as their favourite characters from books and novels, literacy day raises awareness of the importance of literacy.  Dressed as characters from Winnie the Pooh, Peterson volunteers spent the morning flipping pancakes and serving breakfast to the students and their families. In our continued partnership, throughout the school year Peterson volunteers visit the school each week for a reading buddy program spending an hour reading with students.  The breakfast was a wonderful way to celebrate literacy with our friends at Queen Alexandra School!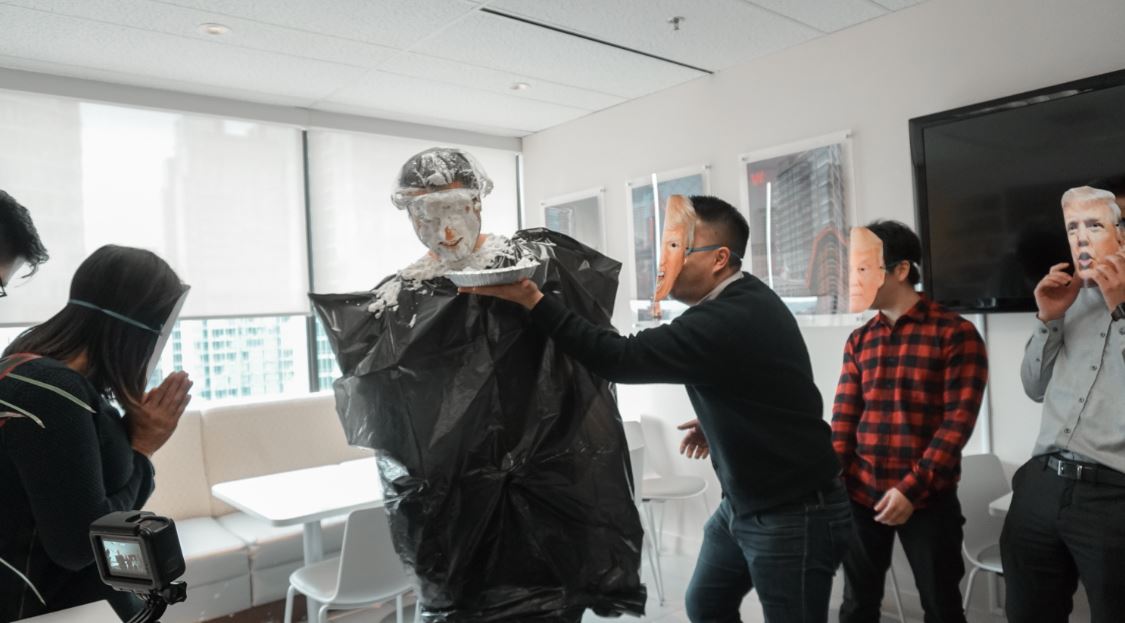 BC Children's Hospital Foundation, Jeans Day 2019
In support of BC Children's Hospital Foundation's Jeans Day, we gathered to compete for the honour to duct tape one brave individual to a wall and to pie two co-workers in the face, all in the name of charity.
More than a million kids count on BC Children's Hospital and funds raised through Jeans Day will help advance innovative research, purchase advanced equipment, and create spaces and practices that prioritize the unique needs of kids and their families in every aspect of their care. Since it started in 1990, Jeans Day has raised over $21 million to transform health care for kids.
Children's Wish Foundation, Night of Wonders Gala
It was a night of wishes come true at the Children's Wish Foundation Night of Wonders Gala.
Thank you Children's Wish for an inspiring evening celebrating the magic of a wish and the joy and transformation that a wish can bring to a child with a life-threatening illness. The event raised over $550,000 in support of granting the 110 wishes that will be granted to wish kids in the next year.
Peterson Chefs
At the 2018 Children's Wish Foundation Heroes Challenge, our team of 12 won "Best Dressed Team" along with our wish child, Eli.
The prize was for eight of our finest chef's to spend an evening prepping, cooking and enjoying a delicious meal together. A big thank you to the Children's Wish Foundation and to Tall Order Culinary for this fantastic prize and to everyone who participated with us in Team Eli's fundraising challenge last year for your incredible generosity and support!
BC Children's Hospital Foundation, 24th Annual For Children We Care Gala (February 2019)
Peterson was honoured to return as presenting sponsor for the 24th Annual For Children We Care gala in support of BC Children's Hospital Sunny Hill Enhancement Initiative.
Peterson was honoured to return as presenting sponsor for the 24th Annual For Children We Care gala in support of BC Children's Hospital Sunny Hill Enhancement Initiative. Peterson volunteers proudly joined the team of volunteers, dedicated staff and gala committee members to help celebrate this very special evening where a record $4,126,888 was raised in support of Sunny Hill. In May 2020, Sunny Hill will relocate to a brand new state-of-the-art facility right on the BC Children's Hospital campus and is the only children's rehabilitation facility of its kind in the province—providing assessments, diagnoses, therapy and above all, hope to thousands of kids and families from across the province.
Peterson is honoured to give back to the community in deep appreciation for the hospital's expertise, understanding and care, and in recognition of a special place that has likely touched all of our lives through a loved one needing care at the hospital. We were once again humbled by the amazing generosity shown in support of pediatric health care in our province.
Employee Directed Giving Program: Jared Lo, Big Brothers of Greater Vancouver
Big Brothers of Greater Vancouver supports child and youth development through volunteer-led mentoring programs.
Jared Lo, who works as our Analyst, Investments, has been a volunteer at Big Brothers for the past two years with their mentorship program. We recently made a $2,500 donation to Big Brothers at Jared's request through our employee-directed giving program to support a cause that he feels passionate about and that also benefits our community. We are happy to support both Jared in his volunteering efforts, and Big Brothers, in the valuable and meaningful work that they do supporting child and youth development.
Peterson Holiday Food Drive & Matching Campaign
Throughout the month of December, we partnered with our local community including tenants and residents of our commercial and residential buildings for a holiday food drive and matching campaign up to $10,000 in support of the Richmond Food Bank.
Collectively, the community raised over $16,000 through cash donations – an amazing 33% increase from last year's donation collection! With Peterson's matching commitment of up to $10,000, this means a collective donation of $26,000 for the food bank and our local neighbours in need, as well as seven very large boxes of food donations that the food bank will distribute to their over 2,200 clients.
Tis the Season…for Christmas Hampers
Now in our seventh year, six of Santa's elves delivered Christmas hampers to the two very grateful local families in need of a little extra help this holiday season.
Each family received enough groceries to last well beyond Christmas as well as some new clothing items for each family member and a special personalized gift. Receiving the names of the families in need from a local school, we are happy to share in the spirit in the season helping to put some extra food on the table and special gifts under the tree for these two families. Happy Holidays!
Employee Directed Giving Program: Chris Jackson, Hoop-Law Charity Basketball Tournament
The Hoop-Law Charity Basketball Tournament is an annual one-day fundraising event jointly organized by the Vancouver legal community and UBC law students with fundraising efforts going towards helping children in need who are living in the local community.
Chris Jackson, our General Counsel, is a long-time organizer, volunteer, fundraiser and participant of the Hoop-Law event. Chris has helped organize the tournament since 2007 and is a former President of the Hooplaw Society which runs the tournament. On September 8th at the Richmond Oval, over 250 lawyers from more than 25 law firms along with dozens of law students gathered to participate in the tournament raising over $80,000 for the recipient charities from the generous contributions of the Vancouver legal and business communities. Through our Employee Directed Giving Program, supporting Chris's volunteer efforts and the good work of Hoop-Law participants and organizers, we were happy to make a donation to the 2018 Hoop-Law designated recipient charities: Night Hoops, Aboriginal HIPPY, and the Children's Hearing and Speech Centre of BC. Congratulations to the Hoop Law organizers and participants on a very successful fundraising event supporting the local community.
Children's Wish Heroes Challenge (September 2018)
The Children's Wish Heroes Challenge is a team challenge event that brings together wish supporters and wish children.
Each team is tasked with raising $10,000, the average cost of a wish and on challenge day, teams come together to celebrate fundraising efforts and to compete in challenges designed to test team spirit, mental agility, and physical ability. Team Peterson, aka Eli's Super Mario All-Stars, joined our wish kid Eli, and his family, for the Heroes Challenge event and had a truly memorable and inspiring afternoon competing against the 14 other teams on event day and raising a collective $180k for Children's Wish! Challenges including conquering a bouncy castle, a cookie eating competition and a dance off. Team Eli also managed to come away victorious earning the title of "Best Dressed Team". We'd like to send a very heartfelt thank you to the incredible generosity of everyone who joined with us to help grant our amazing wish kid Eli, his most heartfelt wish, a trip to Disney World with his family, and to the Children's Wish Foundation for the inspiring work that they do granting wishes to Canadian children between the ages of 3 and 17 who are diagnosed with a life-threatening illness.
The Children's Wish Foundation (September 2018)
The Children's Wish Foundation works with communities across the country to provide children with life threatening illnesses the opportunity to realize their most heartfelt wish.
In July, Peterson joined the Heroes Challenge by inviting our partners, friends and family, to join us in raising $10k by Sept 28 to grant our wish child, 10 year old Eli, with his most heartfelt wish – a trip with his family to Disney World. Eli has been battling ALL Hypodiploid Leukemia for just over one year and underwent chemotherapy at BC Children's Hospital. His prognosis is good and in celebration of his strength, courage and resilience, 6 teams in our office participated in fundraising challenges and together with our local community, we reached our goal of $10k to grant Eli's wish! On September 28, a team of 12 from Peterson will join Eli for the Heroes Challenge event. Thank you to everyone who partnered with us and for your incredible generosity in support of this heartwarming initiative!!
An Afternoon At Dress for Success (June 2018)
Dress for Success (DFS) is a community empowering women into the workforce by providing them with professional attire, career services, and skills development programs.
We packed up the eight bags of donated clothing collected from our in-office clothing drive and dropped them off at the DFS office to kick off an afternoon of volunteering. Natalia, our Director, People & Culture, at Peterson and an active volunteer with DFS for the last eight years, also presented DFS with a donation from Peterson made possible through our employee directed giving program. It was a very rewarding and fun way to spend an afternoon with co-workers doing a small, yet meaningful, part in helping DFS offer long-lasting solutions that enable women to break the cycle of poverty.
Organizations we have recently supported